Dear Children's Hospital Los Angeles supporter,
Meet Finley, a volunteer in the Amerman Family Foundation Dog Therapy Program.
He lost his right front leg when he was 6 weeks old. But Finley doesn't know he's different from any other dog.
Out of all the dogs we photographed for our "Which Therapy Dog Are You?" quiz, he was by far the most active one. He is a happy little ball of energy who swims and plays and loves new situations…and people!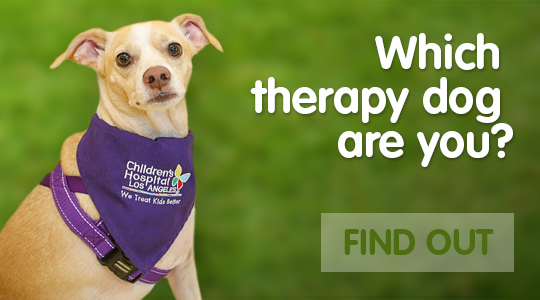 As one of two "tripawds" in our dog therapy program, Finley is an inspiration to our patients. They pick up on the fact that he doesn't let anything slow him down. It's hard not to perk up when you see a three-legged dog hopping around to make friends with the world.
In these last "dog days" of summer, it's time to get in touch with your inner dog therapist. Find out which therapy dog matches your personality by taking our quiz!
Sincerely,

Hillary Freeman
Online Campaign Manager
Children's Hospital Los Angeles