Fundraising Prizes
All Walk L.A. participants are encouraged to fundraise for the hospital program or service they wish to support. To make fundraising fun, the Walk L.A. team is offering the incentives below.
Incentives: Hit these goals and get prizes!
$250:Walk L.A. branded 22oz aluminum water bottle
$500:Walk L.A. embroidered hat
$1,000:Walk L.A. branded backpack
$5,000:1 VIP parking space on the day of the event, and a ticket good for 1 free lunch from a participating food truck on the day of the event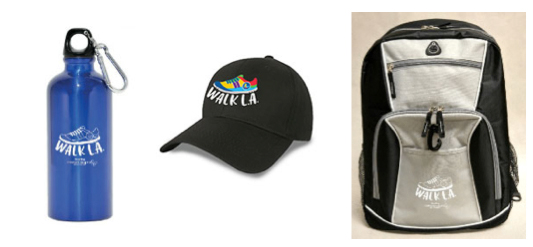 Fundraising deadline: The fundraising deadline to qualify for incentives has been extended to June 12, 2017. The overall fundraising deadline for the walk is July 31, 2017.
Here are some tips to get you started:
| | | |
| --- | --- | --- |
| Make a $25 donation to your page to show your commitment | | $25 |
| Ask 4 friends to join your efforts with donation of $25 each | | $100 |
| Ask 2 family members to donate $25 to your page | | $50 |
| Post on social media and ask followers to donate $5 to $25 | | $50 |
| Ask your doctor, dentist, insurance broker for a donation of $25 | | $25 |
| Total | | $250 |