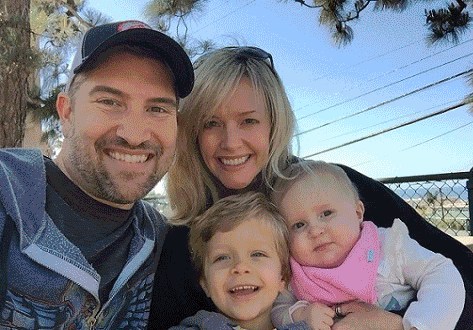 At the age of 6 months, Layla Paige had her first seizure. After being admitted into CHLA, it was discovered that she had a rare and undiagnosable brain disorder. For the next 2 years, Layla received top-rated care from many, many doctors and teams covering numerous divisions and departments: Neurology, Neurosurgery, Neuro-Ophthalmology, Orthopaedic, Genetics/Pathology, Gastroenterology, Pulmonology, General Pediatrics, Clinical Nutrition, Physical Therapy, Occupational Therapy, Vision Therapy, and Palliative Care.
Layla fought like a true "Warrior Princess" for 22 months before finally succumbing to her condition on the morning of July 8th, 2017. Thanks to the tireless efforts of her doctors, nurses and medical teams, she was at home, pain free, and in her mother's arms surrounded by her father and 4-year-old brother, Luke, when she took her final breath.
Our Hero even in death, Layla was able to successfully donate her heart valves and both corneas. One cornea was successfully transplanted into a 4-year-old girl in the Dominican Republic, and her other cornea was successfully transplanted into a 76-year-old woman in Arizona. Layla was able to give the amazing gift of vision to two people, even when she herself was unable to see due to her disorder. Her heart valves have passed quarantine and have been deemed 'available and safe for transplant', they are just waiting for up to 2 matching recipients. Her gift of heart valves, when they do find good matches, can help save the lives of up to two children or adults in need, who might suffer from heart disease or be born with birth defects.
Words cannot describe the tremendous debt of gratitude the Sonnen family owes to Children's Hospital Los Angeles. As the first and largest pediatric hospital in Southern California, CHLA relies on the generosity of philanthropists in the community to support compassionate patient care, leading-edge education of the caregivers of tomorrow and innovative research efforts that impact children and their families.
We hope that you will consider honoring Layla's legacy and help us say "thank you" for the incredible care our family received by making a donation to Children's Hospital Los Angeles. Together we can continue to support other patients and families who are in similar situations and seeking life-saving care.
Thank you!
Larissa ("Reese"), Matt and Luke Sonnen
View More