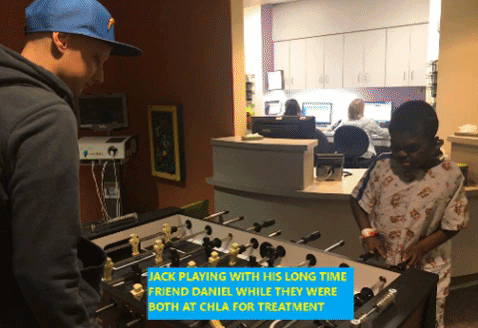 The Hirsh and McSwain families have established an endowment in Jack's honor to benefit the CHLA Child Life program. The earnings from this fund will be used for years to come to benefit CHLA Child Life, keeping Jack's memory alive.
Jack was a huge proponent of the Child Life program and for this reason we have used Jack's savings to help fund this endowment. Jack believed in this program so much that when asked by the Make-A-Wish Foundation what he would like as his one wish, Jack said that he wanted to do something to raise as much money as possible for the Child Life program at CHLA. Although he wasn't able to do this due to logistics, he was able to donate the equivalent of his wish, $4,500, to the CHLA Child Life program. We believe that establishing this endowment is the best way to fulfill Jack's original wish of raising as much money as possible for the program.
Friends and family, please know that we are so grateful for all of the love and support you have already given Jack and our family over the past several years. For this reason, we do not want you to feel obligated to donate to this endowment. Jack would absolutely want us to convey this to you. We are publicizing this endowment because many of our friends and family have asked about charity donations in Jack's honor and we believe that the CHLA Child Life program is the best option for continuing Jack's wishes while at the same time keeping his memory alive for years to come.
What is the Child Life program?
From our first days at CHLA, Jack was saddened by the fact that many sick kids spend hours in the hospital alone because their families are unable to be with them. He also noticed that some families have a hard time understanding the complexities of sickness and treatment. For this reason, Jack was a huge fan of the Child Life program. The Child Life program helps patients cope with the stress and uncertainty of illness, injury, and hospitalization. Trained specialists meet the developmental, social, and emotional needs of patients and their families when they need it most. These specialists also work with physicians and nurses to prepare families for procedures and treatments. In addition, the Child Life Playrooms throughout the hospital are sanctuaries where kids can play and heal.
View More