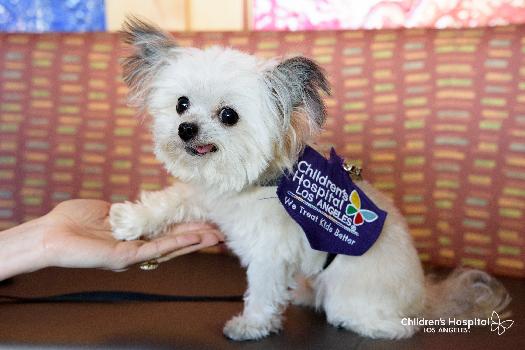 Help support my fundraising efforts with a donation to Children's Hospital Los Angeles Amerman Family Foundation Dog Therapy Program. Your tax-deductible gift will make a difference in the lives of many young patients and their families. Any amount, great or small, will be greatly appreciated and will help us create hope and build healthier futures for the families of Southern California and beyond. Thank you!
It's hard to overstate the impact of the therapy dog program at Children's Hospital Los Angeles. One of the most inclusive and innovative programs of its kind anywhere, the Amerman Family Foundation Dog Therapy Program recruits, trains and supports a roster of roughly 100 therapy dog teams visiting a wide variety of clinical settings. The arrival of a dog at a patient's room is often one of the most anticipated parts of the child's hospital stay, providing an opportunity for a happy, memorable moment during what can be a challenging time.
As respect for the program's impact has grown, so has demand for therapy dog involvement. This program now visits every inpatient unit at CHLA except for surgery, including all three intensive care units, as well as several outpatient clinics.
View More