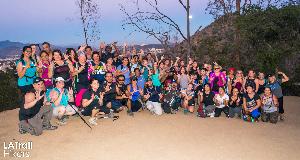 LA Trail Hikers
Welcome to the LA Trail Hikers - Walk L.A. team page! We are excited to be part of the inaugural Walk L.A. in support of the mission of Children's Hospital Los Angeles.
More children receive care from CHLA than any other hospital in the region—and often CHLA comes to the rescue for children when other hospitals run out of medical options for their care. Walk L.A. is the walk that supports the only hospital dedicated solely to the health of children in Los Angeles.
Here are a few ways you can get involved:
•Join our Team at Walk L.A. and create your own fundraising page - Registration is now closed by reaching capacity
•Register as a virtual walker and still be part of our team in spirit!
•Donate to a Team Member using the list at the right and help us reach our fundraising goal.
We look forward to seeing you at the walk to help & support Children's Hospital Los Angeles. You can make a donation and your tax-deductible gift will make a difference in the lives of many young patients and their families. Any amount, great or small, will be greatly appreciated and will help us create hope and build healthier futures for the families of Southern California and beyond.

Share our page with your friends: http://connect.chla.org/goto/LATrailHikers
Thank you!

LA Trail Hikers
#GoLATH
View More

Team Honor Roll
LATH Wednesday Night Hike Donations
$45
#GoLATH WedNightHiker
$20
Katrina Juarez-Lorenzetti
Top Donors
#GoLATH
Brenda Pena
Dalila Santamaria
Miles
Carole Evans